PLANNING FOR NORMALCY AFTER COVID-19
(Posted on: 04/28/2020)
In response to the COVID-19 pandemic, Winonah School of Cosmetology moved all Programs to an online format and has been conducting distance education effective March 23, 2020.
Winonah's School of Cosmetology is now working on a faculty/staff reorganization plan in preparation to resume classes on campus, after the Coronavirus crisis has eased and life resumed normally.
The GOOD news is that we are hiring qualified Cosmetology instructors and office staff, both part-time and full-time, as part of our reorganization plan.
If you are interested in a teaching position and would like to join the Winonah team, we would like to invite you to send us your resume, other qualification documents, and tell us about your knowledge and expertise in the field of Cosmetology and instruction.
You may send your information via email to info@winonah.com or mail it to: 1870 Chace Drive Suite 140, Hoover, AL 35244
We will contact you after we have received and reviewed your information to setup a virtual or in-person meeting to get to know you better while practicing physical distancing.
Please feel free to contact our office by phone at 205-703-8070, through text messaging at 205-870-8761, or email us at info@winonah.net, if you have any questions or concerns. Email Address: info@winonah.com
Address: 1870 Chace Drive Suite 140, Hoover, Alabama 35244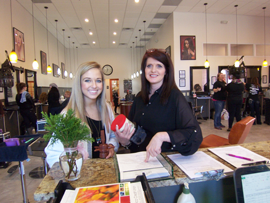 Cosmetology Instructor & Financial Aid Assistant
(Positions Closed)
Cosmetology Instructor
(Posted on: 09/27/2019)
Winonah's International School of Cosmetology is seeking a qualified, energetic, and highly motivated Cosmetology Instructor who is sincerely interested in teaching our students everything that they know as well as working in collaboration with our existing staff.
We offer:
Full time positions for both Day and Evening sessions (Day session is Tues-Sat, Evening session is Mon-Thurs)
A competitive salary and Paid time off
Hourly wage will be determined according to experience, skill set, and qualifications. Exceptional attendance for all instructors is essential with student schedules.
Experience:
Cosmetology: 1 year (Preferred)
Cosmetology Instructor: 1 year (Preferred)
Essential Duties:
Instructors are responsible for classroom and salon floor instruction, practical and hands on instruction and supervision to ensure students at all levels learn essential techniques, skills and attributes necessary to be successful in the Spa/Salon environment.
Prepare for classroom lecture and hands-on training activities daily.
Teach according to the School's curriculum. policies and procedures.
Plan and develop various student learning activities applicable to hands-on lab work, practical demonstrations, and techniques that motivate students.
Prepare materials, coordinate guest speakers and other media that will provide for creative teaching.
Teach academic theory; assess the progress of students on a regular basis. Evaluate students in attaining goals and objectives. Regularly oversee students testing.
Keep students and administration adequately informed of progress and/or deficiencies, particularly in the event of a possible failure as well as students on leave, dropping courses and/or making any changes.
Review and regularly inform the supervisor of students out on leave, missing time/hours, and make contact to keep students in school.
Maintain student attendance and grade records.
Complete administrative work required per class including grading, curriculum support and tutoring students (make-up hours).
Attend staff meetings as requested by the Administration.
Participate in educator and professional development as required by credentialing agency.
Ensure all compliance requirements are met when providing instruction in classes and on the clinic floor (state and national requirements).
knowledgeable of computers and basic technology.
knowledgeable in Microsoft words and excel.
Utilizing the School's computerized system for entering students' grades and performance.
Maintain confidentiality of all work information.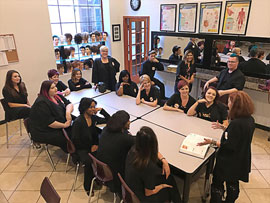 (Posted on: 09/27/2019)
Candidates for this position should have experience working in a post-secondary school financial aid department.
We offer:
Full time position
A competitive salary and Paid time off
Hourly wage will be determined according to experience, skill set, and qualifications. Exceptional attendance for all instructors is essential with student schedules.
Qualifications:
This position requires a high school diploma or equivalent, with experience in office or administrative positions.
Ability to work effectively within an ethnic, cultural and socially diverse student population.
Must be organized and able to multi-task.
Ability to work in fast paced environment.
Good telephone skills and proper etiquette.
Ability to communicate easily with people.
Must be proficient with a computer. Working knowledge of Microsoft Office products required.
The Financial Aid Assistant serves as the initial contact for the Financial Aid Office and delivers a professional and positive customer service experience.
Must understand and abide by the limitations of the Privacy Act and interpret financial aid policies and procedures along with School, State, and Federal policies and regulations.
Essential Duties:
Meeting with financial aid applicants, supporting the students FAFSA process and evaluating the need for financial assistance.
Process all necessary documents and maintains compliant student files.
Verifies all paperwork is accurate and complete.
Enters student information into the National Student Loan Data System (NSLDS) and Common Origination Disbursement (COD) information.
Submits necessary information and forms into the School's Electronic systems.
Turns completed file over to Financial Aid Advisor for Awarding.
Gathering data on academic progress and attendance to be reported to the FA Director.
Provides data as requested to Senior Management staff.
Performs other job-related responsibilities as required.
Such as general clerical duties such as copying, data entry, and filing.